We looked at forest pictures created by a wide variety of artists. Some were in oil, some in pastel, some in ink.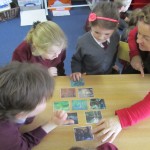 We worked in groups to decide which pictures we liked best, and ranked them once we had agreed.
We then wrote about our favourite forest, describing it as well as how it would feel to be in it.
We really had to use our imaginations during this task and we are proud of our writing.