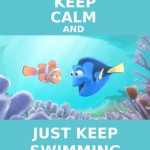 As of next year swimming will be compulsory for all children from 2nd to 6th Class.  The swimming pool in K-Leisure, Naas  has been reserved.  These swimming lessons will commence in January 2016.  The cost is approximately €40 per child.  All children will be expected to attend lessons as it fulfils the Aquatics Module of the PE Curriculum as laid down by the Department of Education.
Should a child be unable to attend swimming  due to a medical condition, a letter must be written  requesting exemption.  Children not attending swimming lessons will be supervised in other classes with work set by their class teacher.
Children will be accompanied  and supervised by a class teacher on the way to the pool from the school.  Children will travel by coach to the pool and the class teacher will provide supervision before and after the swimming lesson.
More detailed information will be given nearer the time.