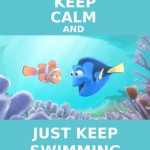 Swimming begins for all children in 2nd and 3rd classes this Friday.  Here's a few tips and pointers on what they'll need.
All children attending swimming lessons should wear appropriate clothing.  School tracksuits to be worn on Fridays. (Swimming togs may be worn under tracksuits coming to school). Each child must have a suitable bag to carry his/her swimming gear (Sports bag or similar with secure zip or other fastening).
 All items brought to the pool should where possible be clearly labelled with the child's name. This includes the bag, tracksuit, socks, underwear and shoes. The school cannot accept any responsibility for the loss of these types of personal possession.
 Each child must have their own togs (without pockets), towel, hair brush and swim cap, all of which must also be marked. Swim cap absolutely compulsory. Normal school rules regarding jewellery apply.  No jewellery should be worn in the pool.  No shampoo,  shower gel, hair gel, talcum powder or aerosols are permitted.
 Many thanks for your co-operation on this,
F. Murphy.
W. O'Donoghue.