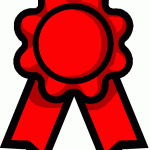 Congratulations to Natasha Logan on her recent success on winning an All Ireland Gold Medal in Boxing. Natasha subsequently went on to win her fight at cadet level and is now on the Irish Girls Boxing Team.
Well done to Róisín Dowd Mahoney who recently won 3rd place in the Cecil Day Lewis Literary Awards Competition for her poem about Anne Frank called ' The Waiting Game'. Click on the 5th and 6th Class link to read her award winning poem!
We wish to congratulate the members of the 8th Kildare Allenwood Scouts in Robertstown N.S., Killian Hynes, Róisín Dowd Mahoney and Niamh Donohue, on their success at the Kildare Companionship and wish them well in upcoming events.