Robertstown National School
Robertstown N.S. is located along the banks of the Grand Canal in County Kildare. It is a catholic co-educational primary school. Principal, William O Donoghue, leads a staff of eight classroom teachers, four SEN teachers and four special needs assistants.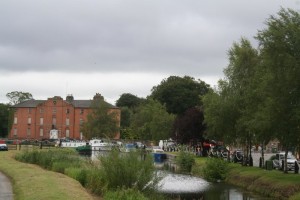 Village Signs Project
In 2010 the school took part in a project involving local sculptor, Peter Pilkington and the children in the school to create village signage.
Bins Project
The children together with Peter Pilkington, a local sculptor, undertook a project to create and provide bins for the village and outside the school. Kildare County Council and Waterways Ireland supported this project and gave permission for the bins to be placed in the village.
The children created pictures of animals and objects that incorporated a rubbish bin into the design. The winning designs were created by Aoife Ryder, Blaithin Byrne, Cole Lyons, Finn Gillespie and Evan O'Brien.
All of the children in the school got a chance to learn the skills and help Peter to construct the bins.
The Den arrived in April just in time to see two of the bins being laid into their foundations. They interviewed the designers and it was broadcast that evening on News2day.
The official launch of the bins took place on Sunday 27th April and was a huge success. The Lucan Gospel Choir and the Brass Band provided the backdrop for the children march from the school to the village and the school choir joined them for the unveiling of the bins.
The event was widely supported by the whole community. Today the bins stand proud in the village of Robertstown.