Strands 
Strand Units
Athletics   
Running
Jumping
Throwing
Understanding and appreciation of athletics
– – – – – – – – – – – – – – – – – – – – – – – – – – – – – – – – – – – – – – – – – – – – –
Dance  
Exploration, creation and performance of dance
Understanding and appreciation of dance
Exploration, creation and performance of dance
Understanding and appreciation of dance
– – – – – – – – – – – – – – – – – – – – – – – – – – – – – – – – – – – – – – – – – – – – –
Gymnastics  
Movement
Understanding and appreciation of gymnastics
– – – – – – – – – – – – – – – – – – – – – – – – – – – – – – – – – – – – – – – – – – – – –
Games  
Sending, receiving and travelling
Creating and playing games
Understanding and appreciation of games
– – – – – – – – – – – – – – – – – – – – – – – – – – – – – – – – – – – – – – – – – – – – –
Outdoor and adventure activities 
Walking
Orienteering
Outdoor challenges
Understanding and appreciation of outdoor and adventure activities
– – – – – – – – – – – – – – – – – – – – – – – – – – – – – –  – – – – – – – – – – – – – – –
Aquatics 
Hygiene
Water safety
Entry to and from the water
Buoyancy and propulsion
Stroke development
Water based ball games
Understanding and appreciation of aquatics
Please take a look at all the hard work done in the school in the Powerpoint:
Active School Week – 23/4/18 to 27/4/18:
We got our week off to a good start with our "Wake Up, Shake Up"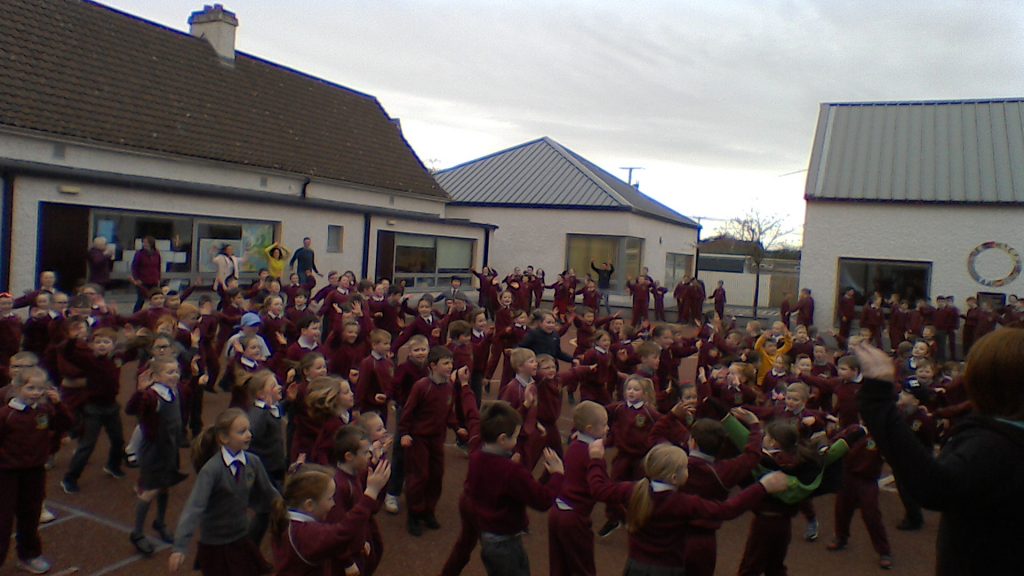 25th June 2018:
We received our Green Schools Active Flag from Declan McGovern school liaison.  Thank you to Ms. Conroy for all her hard work with the help of the Student Council.
Well Done to all involved in this long process!!