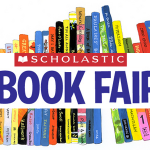 Dear Parents & Guardians,
Mark your calendars for our upcoming Scholastic Book Fair!  The Fair will run for one week beginning next week, from Thursday the 16th – 23rd of November.  Children can browse and buy from 9.20 am – 2.15 pm on that week.  The book fair will be held on the corridor outside the hall.    You and your family are invited to visit from 3pm – 5.30pm on Tuesday the 21st and Wednesday the 22nd.   We look forward to seeing you.
To celebrate the bookfair children are to dress up as their favourite character from their favourite book on Friday the 17th, we cannot wait to see this!!